Designed as the ultimate tone shaping tool for a player's pedalboard, the PRISM is a buffer, boost, preamp, EQ and overdrive all in one beautiful and compact stainless steel enclosure!
Much like an optical prism, which takes white light and breaks it apart into the different colors, the Jackson Audio PRISM takes your guitar's natural tone and allows you to boost it, shape it and transform it into a new tone that is uniquely you!
Use it shape your tone, slam the front of your amp or add new dimension to your existing pedals, any way you use it, we believe the PRISM will be the cornerstone of your rig for many years to come!
PRISM OVERVIEW
The PRISM was designed using a systems approach to tone shaping. While the PRISM contains many features and circuits, those circuits are precisely crafted to work in harmony with each other to create a unique tone shaping tool with unrivaled flexibility and performance!
Housed in a custom designed stainless steel enclosure that features laser engraved artwork, the PRISM is one of the few pedals on the market that looks as good as it sounds! Keep reading below to learn more about what makes the PRISM so unique!
EQ/TONE SCULPTING
The PRISM was conceived between Brad and Nigel as a tool that players could use to unify their rigs regardless of the guitar being used. Since many guitarists will swap guitars but keep the same pedalboard and amp, we wanted to create a tool that would allow the players to re-voice their rigs for the guitar chosen and the +/-15dB active EQ in the PRISM accomplishes this with ease.
This active EQ gives an incredible amount of tonal control and range and has ZERO interaction between the BODY and TONE controls. Having ZERO interaction means as the player adjusts the TONE it will only adjust the high frequency response and not cause the low frequencies to shift and the same is true for the BODY control.
Perhaps the most useful feature of the active EQ in the PRISM is that when placed at the front of the players rig and used as a master EQ, the PRISM will allow the player to dial in their tone using ONE pedal and will prevent them from having to adjust the EQ of every pedal in their rig when changing guitars, amps or venues.
BOOST/PREAMP
As a boost/preamp the PRISM contains three of the most distinct voices of boosts available. A transparent clean boost with no tonal coloring (TRANS), a boost that emulates a vacuum tube amp (AMP) and finally the boost circuit that started it all, the silicon treble booster (COLOR). These three circuits represent over 50 years of guitar effects from the earliest guitar pedal ever made to the more modern transparent voiced circuits.
Each boost/preamp circuit in the PRISM is totally discrete and shares ZERO circuitry with the other boost circuits. We did this so that each circuit would be completely true to its own voice and not have to compromise its sound for the sake of cost cutting or space economy. In fact every circuit is contained in its own true bypass loop so there is never any additional circuitry in the signal path.
Traditionally most players will use a boost/preamp pedal to drive the front end of a tube amp into overdrive and the PRISM does this very well given its huge amount of output however we encourage players to experiment by placing the PRISM at the front of their pedalboards and enjoy the host of new tones available as the PRISM boosts their existing pedals!
Note: To take full advantage of the PRISM we recommend placing it first in the signal chain as its active EQ will be most effective in that position and the treble booster circuit (COLOR) works best when connected directly to the guitars output. Treble booster circuits in general are known for cleaning up very dramatically when rolling back the volume control on the guitar and the PRISM is no different. For these reasons we recommend that the PRISM be placed first in the signal chain.
BUFFER
The PRISM is a true bypass pedal featuring our own silent switching circuitry and uses relays with a soft touch momentary contact footswitch to accomplish the bypass. We chose relay bypass because it is far more reliable than traditional mechanical true bypass methodologies and the relays themselves boast a lifespan of over 100,000 cycles!
At the very end of the PRISM we included a high current buffer that is used to strengthen your signal and preserve your tone regardless of how complex your pedalboard is or how long the cable run is back to your amp.
Power consumption: Standard 9VDC center negative, min 150 mah (Powersupply not included)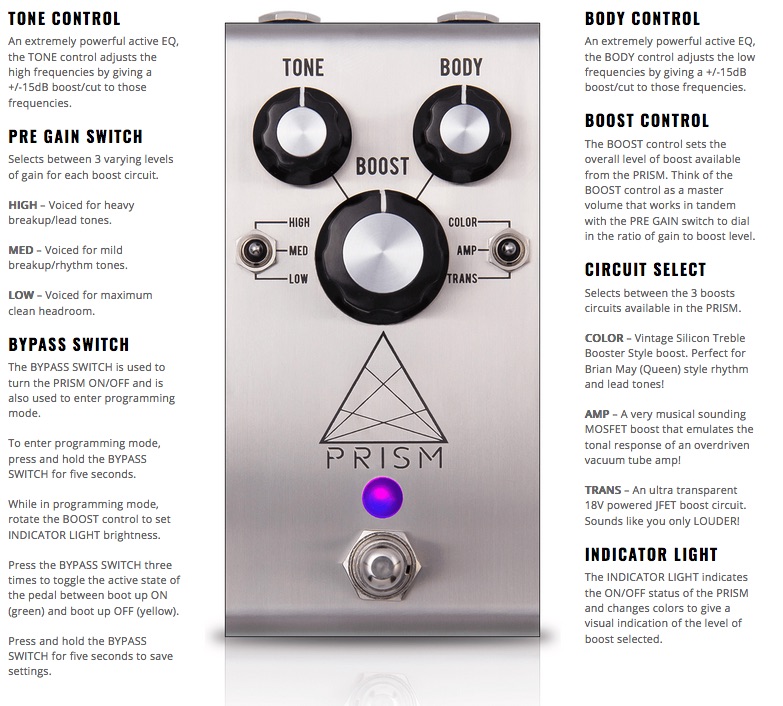 Kundenmeinungen
Kundenmeinungen
Kundenmeinung von

Niko

(on 10.11.2018)

Das Prism hatte mich durch die guten Reviews angefixt. Ich mag vielseitige Overdrives, und auch optisch macht das einiges her.
Als ich es anschaltete war ich dann überrascht. Es klang völlig anders als ich es erwartet hätte. Und zwar noch deutlich besser! Es ist kein High Gain Pedal, deckt aber eine sehr große Bandbreite im Low/Midgain Bereich ab. Mit der Kombination aus den Schaltern und Reglern ergeben sich unendlich viele Möglichkeiten. Es gibt nicht den einen sweet spot, sondern man kann deutlich variieren.
Vor allem: es macht den Ton sehr viel schöner und rauscht überhaupt nicht. Egal ob mit cleanem oder angezerrtem Amp, das Ding klingt super.
Es ist nicht billig, aber sein Geld wert. Die Verarbeitung ist nicht zu toppen, und die Klangvielfalt und -Qualität sind überragend. Klare Kaufempfehlung!