The OctaHive is super high gain fuzz with a well pronounced high pitch octave. The octave can be turned off by the toggle switch, turning it into a warmer and thicker fuzz pedal.
The best way to achieve a well pronounced octave sound is by lowering the Pre gain and the tone control on your instrument. The balance between the Pre and Honey is the key to achieve a variety of sounds.
On the octave mode, things can get really nasty, splashy and gated. It's great for high gain leads, specially when played above the 12th fret. With a little less HONEY you can get that "purple haze" tone. At low gain settings it can produce "ring modulator" overtones, great for textures.
With the octave off it's a whole different pedal, producing a warmer and thicker fuzz tone, making it more versatile and "chord friendly".
The OctaHive was based on the 1970's Tycobrahe Octavia and it can produce classic and modern sounds. A great addition to every pedal board.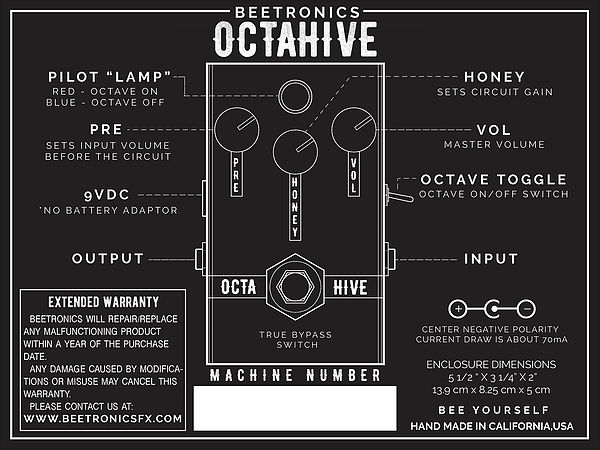 Kundenmeinungen
Kundenmeinungen
Kundenmeinung von

Stephan

(on 19.04.2017)

Dreht man den Honig voll auf, werden die Bienen richtig wild, vorher lassen sich in Kombination mit dem Pre Gain abgefahrene High Octave Sounds gestalten. Das Gerät reagiert sehr gut auf die Dynamik beim Spielen, so dass sich nur durch unterschiedlichen Saitenanschlag verschiedene, teilweise sehr ungewöhnliche Sounds erzeugen lassen.
Schaltet man die Octave ab funktioniert das Teil gut als bluesiger Verzerrer oder auch als Booster, kann also auch ganz klassische Sounds.
Insgesamt klingt alles sehr präsent und durchsetzungsfähig.
Einziger Kritikpunkt (wenn´s denn einer ist...?): Schaltet man die Octave ein, geht die Lautstärke deutlich zurück
Dennoch: Je ne regrette rien!