The WhoctaHell is a Low Octave Fuzz, with fully independent controls for the fuzz and the octave. It's a overdrive/fuzz summed up with a gnarly squared wave low octave, resembling a 8-bit bass synthesizer. Its octave has a range of one or two low octaves, selectable by a toggle switch and also has it's own separate bypass switch.
The od/fuzz and octave work fully independent and used separately, but the magic really happens when you start blending them together and finding your sweetspots. You can create a large range of tones, that can be used on many different ways.
It's up to you to choose beetween a indie rock lead, a bass synth or a super mario bros sounding theme! No matter what you are into, the WhoctaHell will inspire you to create new music.
Just do not forget, it is a beeast!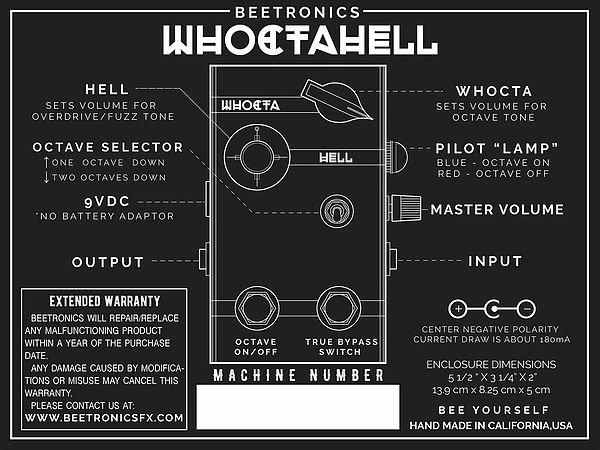 Good Luck.
https://www.youtube.com/watch?v=TyWPMIeh41A
Reviews
Customer Reviews
Review by

BigJohn

(on 5/24/2017)

This is easily the best looking pedal that I´ve bought. It´s a big metal box that looks like it came from a junkyard but was refurbished by a hipster engineer from Berlin. And inside its soldered into a shape of a bee! This thing does not go unnoticed on my pedalboard.

The pedal came well packaged with a complementary pick and some stickers - and a Chupa Chups! That was pretty funny.

I think that it´s good that the pedal has some size to it, because you have two footswitches. It felt easy to access both with my foot without accidentaly stomping on the other. All of the asymmetrical knobs felt great. I guess it would be nice if the jacks were top mounted since the chassis is quite sizeable. That´s the only tiny bit of critique I can come up with, because the thing is completely awesome.

I´m a sucker for octave fuzzes, especially sub octave generators. The fuzz here is more overdrive-y than fuzzy, but it is very, very good. It is quite clear with tons of harmonics. A very nice drive. I recommend turning the Hell all the way up and the master volume as high as possible. Increasing the output gave me a bit of extra dirt when driving my tube amp. I especially enjoyed the overdrive for riffing and rhythm playing. There´s not a ton of sustain for lead playing, but that´s not what this is for, anyway. It´s a box to use for big, noisy riffing. I was surprised by how well it stacked with other overdrive pedals. I didn´t expect that.

The octave section is why you would buy this, though. You can use it independently, which gives you a synth-like sound. Now, I absolutely love vintage-style octavers that don´t track well and are glitchy. And that´s exactly what this all about. It tracks horribly and is extremely glitchy and difficult to control. You can affect the amount of glitchiness with your picking dynamics. A light pick attack while using the neck pickup of your guitar will give you a "milder" octave glitch, while picking hard and using the bridge pickup will make it go crazy. I absolutely love all of that. It´s really special, and I don´t know of another pedal that does this thing the same way.

Before plugging in the pedal I thought that I would mainly use the -1 octave setting, since that´s what I normally go for (and what guitar speakers can handle). But the Blue Box-like -2 octave setting is a smash, and I use it all the time! And this is where having the two footswitches comes in handy. I´ll play with just the Hell side on for chords and stuff, and then stomp on the Whocta switch and unleash an interlude of nasty suboctave lead lines. Tons of fun.

I guess I do have one gripe with the pedal - according to the manual it eats up about 200mA of current, which is unusual for a pedal like this. My power supplies can handle this, but it can be a concern for some.

All in all, fantastic job, Beetronics! Also, I had zero problems dealing with Effect Boutique. Everything went as expected.